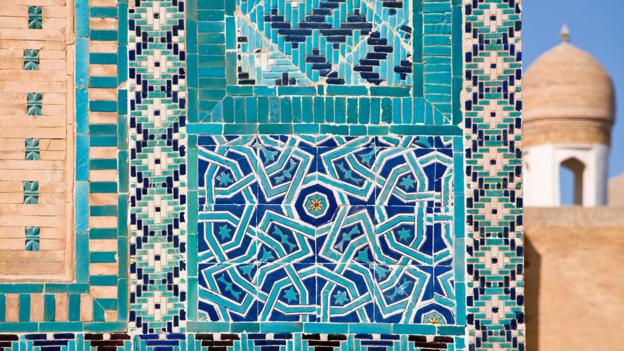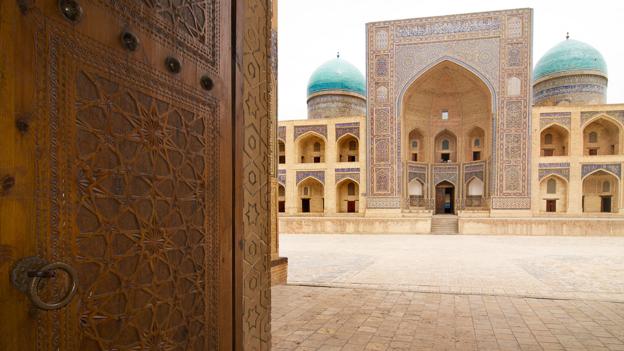 View image of Samarkand has been meticulously restored (Credit: Credit: Jon Arnold Images Ltd/Alamy)
The pools beneath the pristine madrassa in Bukhara's blue-tiled Lyab-i Hauz square were still. Men in long tunics hawked tea from silver pots in the cafes across the way. And narrow streets rolled into four-gated towers that surrounded the town centre, where sellers peddled embroidered jackets, dried spices and leather shoes. It was everything I had ever imagined the old Silk Road cities of the Central Asian steppe to be.
"Come on," Vladimir Kim rolled his eyes. "I'll show you the real Bukhara."
As I came to learn, there are two Uzbekistans. There's the one with the meticulously – some might say aggressively – restored cities such as Bukhara and Samarkand, where 19th-century merchant's houses have been transformed into boutique hotels and their old stucco and marble parlours converted into breakfast rooms. This is the Uzbekistan that visitors are ferried to on tours, and where urban centres are kept as pale monuments to when this vast and arid region was one of the financial and intellectual centres of the medieval Islamic world.
And then there's the one the Uzbeks know – the one beyond the Silk Road.
Once Kim, the only English-speaking guide in my Silk Road Tours group, realised that I was the only English-speaking traveller (everyone else was either French or Italian), he decided to break away from our planned itinerary.

View image of Inside the preserved mosques and madrassas of Silk Road Bukhara (Credit: Credit: J Marshall — Tribaleye Images/Alamy)
Behind the preserved mosques and madrassas of Silk Road Bukhara, he showed me another city of faded Soviet high rises – remnants of the 67 years Uzbekistan spent as part of the USSR. He also took me to a local bazaar behind the citadel where old women sold bread stamped with the distinctive Bukharian seal (each province gets its own calligraphic design) out of plastic bags, and where young women came to buy their velvet bridal attire.
I expressed surprise at the cost of one of the dresses: 850,000 som, roughly an average worker's monthly salary. I wondered whether the shopkeeper was quoting me a tourist price.
"People spend everything on weddings here," Kim explained. They get invitations printed (even today, on a press powered by a local stream) or hand-drawn on handmade paper. They spend their savings on the clothing, and still more on the food. Here, as in many other countries with historically nomadic populations, hospitality towards strangers is the greatest of virtues and failure to feed everyone in the village is an embarrassment.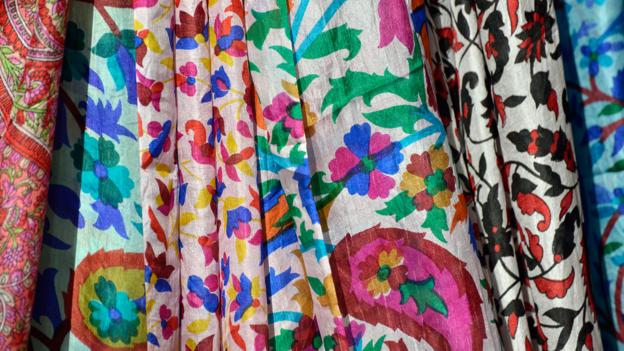 View image of Men dine at Bukhara's Lyab-i Hauz square (Credit: Credit: J Marshall — Tribaleye Images/Alamy)
While the rest of the group went to a restaurant near the Lyab-i Hauz, Kim led me through the market, weaving between silk scarves and imitation designer handbags, dodging women with heads bowed under teetering trays of pumpkin-stuffed samsas (the Central Asian version of samosas) and plastic bags of popcorn.
I admired a woman's coin-fringed scarf, worn around her face, and asked, in halting Russian (still the lingua franca here), where I could find one like it.
She snapped her fingers and spoke in a rapid mixture of Russian and Uzbek. There was no mistaking her meaning: come.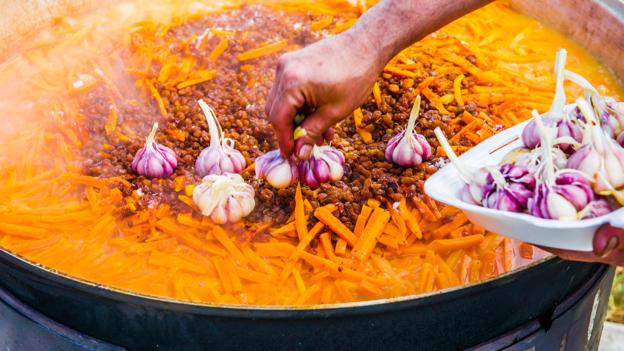 View image of Silks hang in stalls at local markets (Credit: Credit: Kasia Nowak/Alamy)
Two minutes later, we were standing in front of a corrugated tin stall with coin-jangling silks arched under the ceiling. I asked Kim if she worked there. "No," he said. "She just wanted to help you, that's all."
In Bukhara's historic centre, the tourist part of the city, commerce underpins social interaction. But here, a few minutes' walk from the medieval madrassas, the dynamic gave way to gleeful anarchy. Unencumbered by the eerie formality of the tourist trade, the market atmosphere was less Eastern bazaar and more Russian bazroba – a market that's brash, messy and surprisingly hospitable.
Outside a restaurant in the heart of the bazaar – where the smell of simmering lamb pilaf enticed us to come dine inside – an Uzbek family carrying an enormous cardboard box of imitation Ray-Bans stopped me. They informed me that I was the first American they'd ever met (they'd seen plenty on TV, of course) and insisted that I take a pair of sunglasses as a gift. I tried to refuse politely, but failed.
Experiencing the duality of Uzbekistan continued throughout my trip. In the mornings, I'd explore the Silk Road with the rest of the group, visiting not only Bukhara but also other Uzbek cities such as ancient Samarkand.
Here, I'd take photos of the Registan, the magnificent central square of old Samarkand, each gargantuan building restored with modern blue mosaics so complete that it was impossible to tell where the past ended and the present began. I'd visit the observatory of Ulug Bey, where one of the Islamic world's most famous scientists created one of the greatest star catalogues in intellectual history using a 35-metre sextant – designed to measure the positions of stars – in lieu of a telescope. I'd eat honey-drenched baklava and drink cardamom coffee in tea houses while sitting on over-piled and moth-eaten carpets.
Then Kim would signal, and we would enter into the other country.
There, we would eat gargantuan horsemeat pilaf platters – garnished with hard-boiled eggs and sausage-stuffed quails – in working men's halls in suburban Samarkand. We'd change money (the black market for the Uzbek som is enormous) down alleyways and in liquor shops in capital city Tashkent. We'd go to Soviet-style bars, downing shot after shot of what Uzbeks euphemistically call okchai, which translates as "white tea" but really means vodka. We'd order lagman noodles, thick with lamb fat and lightly spiced with peppers, and eat them on night trains. We would buy spices like dafne leaf – sumac so red it would stain our fingers – wrapped in old Russian newspapers.
This was not the idealised Uzbekistan President Islam Karimov – the controversial, authoritarian figure locals carefully refer to as "our first and last president" – wants tourists to see.
In this bleak but convivial Uzbekistan, we spent our last night of the tour at the Soviet-style Tashkent Shodlik Palace Hotel. After a look at the dimly lit, yellowing sauna that felt less like a spa and more like an abandoned warehouse, I ordered a bottle of the advertised "Uzbek Champagne" from the room service menu. However, the staff refused to bring it to me.
"Come downstairs instead," said the receptionist. "We're very busy."
I met up with Kim. And there, in the hotel's Hemingway Bar – named, like so many Hemingway bars, more for an alcoholic kinship with the author than any real connection – I ordered what seemed to be a surprisingly expensive shot of okchai for around 15,000 som.
The vodka came as a full bottle.
Kim grinned. "This is normal," he said.
We raised our glasses, toasted in Russian and drank the whole thing.

View image of Silk Road cities are kept as pale monuments to another time (Credit: Credit: Hemis/Alamy)