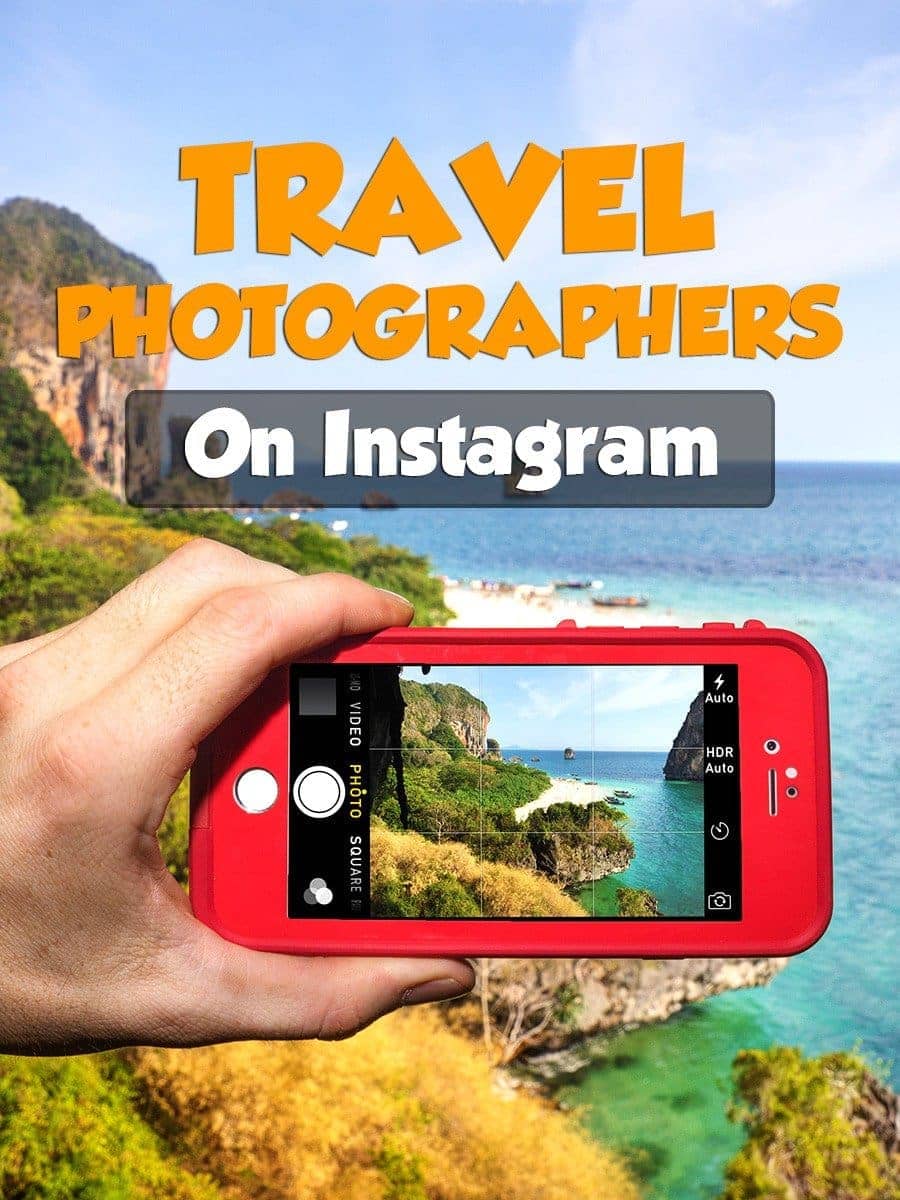 Inspiration
Need travel inspiration? Follow my favorite Instagram travel photographers as they capture beautiful images of people, landscapes, and animals around the world.
Checking in on my favorite travel Instagramers has become an almost daily routine. They provide me with a little snapshot into their lives. A compact digital postcard from very different parts of the world.
There are plenty of great brand-powered accounts out there too. My favorites include Lonely Planet, GoPro, National Geographic, and Arc'teryx. However for this breakdown I wanted to feature personal ones.
Keep in mind my list here is completely subjective. Some of these accounts are more personality driven, while others create a steady stream of incredible & diverse travel images from across the planet.
Check em' out, and get inspired by some amazing travel photos!
Best Instagram Travelers (2015)
Expert Vagabond
@expertvagabond
Yeah, that's me! Before I share my favorite Instagram travel photographers, I wanted to introduce you to my account first. Shameless self-promotion.
Do you love landscapes & adventures around the world?
Well you'll love my account! I've been traveling full-time for the past 4 years — doing things like hitchhiking across the United States, diving with sharks in South Africa, trekking in Turkey, hunting aurora in Iceland, and more.
Follow Expert Vagabond On Instagram »
Michael Christopher Brown
@michaelchristopherbrown
Michael is a proper photojournalist covering news on assignment in places like China, Libya, the Congo for National Geographic. Producing very powerful images, his portraits are especially impressive.
Follow Michael On Instagram »
Kirsten Alana
@kirstenalana
Not only does Kirsten shoot awesome travel photos, her updates are like mini blog posts full of information about the area she's visiting.
Follow Kirsten On Instagram »
Young Adventuress
@youngadventuress
I always enjoy Liz's photo updates as she hikes, flies, and swims her way through Europe, the Middle East, and currently New Zealand.
Follow Liz On Instagram »
Chris Burkard
@chrisburkard
Chris is one of the most famous landscape photographers on Instagram.
Follow Chris On Instagram »
Round The World Girl
@roundtheworldgirl
Elise's earliest memories involve being outside exploring the beautiful natural world. This experience has shaped who she is today, and it shines through in her photos.
Follow Elise On Instagram »
Foster Hunting
@fosterhunting
Foster gave up his desk job to explore North America living from his van and surfing along the way. He shoots some mighty fine images of his journeys along the way.
Follow Foster On Instagram »
Tiff Penguin
@tiffpenguin
Tiffany works as a dentist but loves to travel with a camera in her spare time. Her photos are full of colorful adventures in the mountains.
Follow Tiffany On Instagram »
Adventurous Kate
@adventurouskate
Kate's been traveling for as long as me (5 years) and shares images from her fun trips to places like Europe and Southeast Asia.
Follow Kate On Instagram »
The Planet D
@theplanetd
Probably my favorite travel personalities online, Dave & Deb share their adventures around the planet with both beautiful images and humor. Their motto is that adventure is for everyone!
Follow ThePlanetD On Instagram »
The Blonde Abroad
@theblondeabroad
Kiersten's stream contains fun photos of food and festivals on her frequent travels. All the super sexy bikini shots certainly don't hurt either!
Follow Kiersten On Instagram »
Trey Ratcliff
@treyratcliff
Trey's photography is full of vibrant color and some of the world's most inspiring landscapes. His images from Burning Man are some of my favorites.
Follow Trey On Instagram »
Uncornered Market
@uncornered_market
Dan & Audrey's travels through Europe, Asia, and Africa are shared using some fascinating photos on their feed. I always look forward to their updates.
Follow Dan & Audrey On Instagram »
Everything Everywhere
@everythingeverywhere
Gary's award-winning photography takes you on a virtual tour through some of the many UNESCO World Heritage Sites he visits from around the world.
Follow Gary On Instagram »
Cole Rise
@colerise
Cole has some of the most beautiful photography on Instagram. Fly around the world with him and get inspired to visit the same places one day.
Follow Cole On Instagram »
JOIN ME ON INSTAGRAM!
I hope you enjoyed my choices for some of the best Instagram travel photographers to follow! Feel free to share your favorites in the comments, and remember to check out my feed: Instagram.com/expertvagabond
Thanks, and happy travels! ★