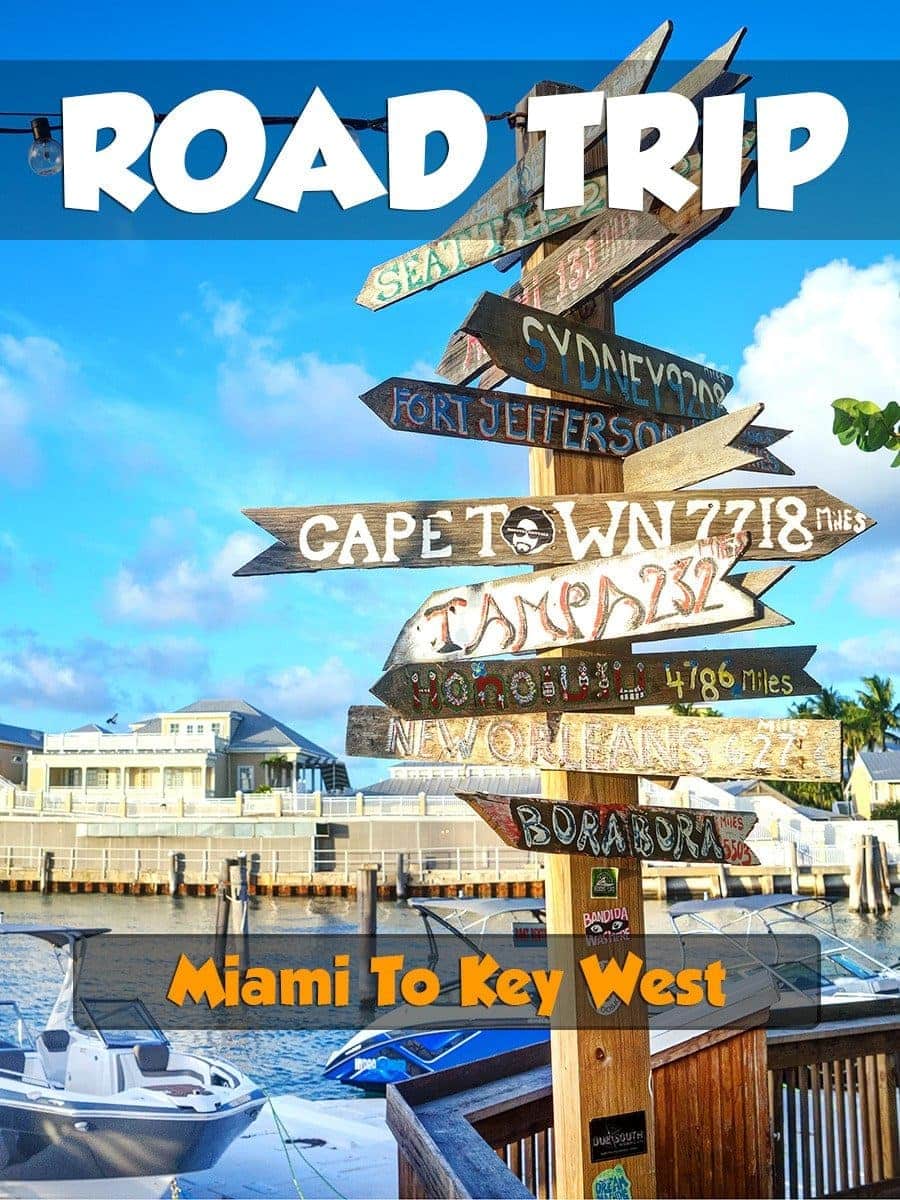 Key West, Florida
Driving down through the beautiful Florida Keys from Miami to Key West is a classic American road trip. Here's what you can expect on the journey.
Key West is the Southern most city in the United States, and it's only a 4 hour drive from Miami on the scenic Overseas Highway with plenty of interesting (and kitschy) things to do on the 110 mile trip, including crossing over 42 different bridges.
No visit to South Florida is complete without road tripping down to the Conch Republic for a few days. Especially if you like pirates, key lime pie, watersports, and live music!
I recently spent 4 days exploring the Florida Keys with my friends Steph (Travel-Break.net) & Lauren (GlobalExplauren.com), and we wanted to share our favorite things to do on a road trip to Key West.
Rent A Jeep
The best way to experience the scenic Florida Keys is behind the wheel of a convertible, like the fun Jeep Wrangler we rented with Tons Of Fun Tours.
They make it easy by delivering it to the airport or your hotel in Miami. Once you have it, just drop the top, remove some clothing, turn up the volume, and enjoy the drive!
We made our way down to Marathon under the warm sun stopping for photos and quirky souvenirs, like the stuffed shark who would become our mascot for the rest of the trip.
Feeding Wild Tarpon
Dangling my arm over the water, a massive sea creature suddenly leaped out and wrapped its mouth around my hand to the horror of screaming onlookers.
Growing up to 8 feet long and weighing over 200 pounds, Tarpon are huge gamefish that live in the tropical waters off the Florida Keys. Fishermen from around the world travel here just for a chance to catch (and release) one of these monsters.
But you can buy a bucket of bait for only $3 and hand-feed these amazing fish from the docks of Robbie's Restaurant on Islamorada. Be careful, they have small teeth that will leave marks!
It's a super fun stop on a road trip to Key West.
Marathon Key
While you could drive directly from Miami to Key West in about 4 hours, there's a lot of cool stuff to see in the rest of the Florida Keys too.
I recommend driving down over the course of 2 days, spending a night in Marathon before continuing on.
That's exactly what we did, booking a room at the beautiful Faro Blanco Resort to break up the drive.
While in Marathon, grab some lunch at Tarpon Creek Bar & Grill and dinner at the Lighthouse Grill. Both serve up all kinds of tasty fresh fish caught locally.
Seven Mile Bridge
Driving over the vibrant blue ocean for miles on a bridge that never seems to end was one of my favorite parts of road tripping the Florida Keys.
The Seven Mile Bridge was originally constructed in 1912 for railroad traffic.
These days you drive across it on your way to Key West, or park just north of the bridge at Mile Marker 47 in Marathon and go walking or biking over to Pigeon Key along the older span.
Things To Do In Key West
Learn To Sail
Gather a few friends and charter a boat for sailing lessons with Sunset Sail Key West like we did. Explore the islands powered only by wind. They offer day trips, sunset sails, and overnight excursions.
Go Snorkeling
Dive into the ocean and swim with sea turtles, nurse sharks, parrot fish, and spiny lobsters on the shallow reefs around Key West. Join a boat tour or snorkel from the beach at Fort Zachary Taylor State Park.
Hemingway House Cats
Ernest Hemingway lived in Key West during the 1920's, and you can visit his old house, and make friends with the 50 or so six-toed cats that live there. Perfect for crazy cat lovers (like me).
Key West Sunsets
The sunsets in Key West are some of the best I've ever seen. Grab a beer and watch in awe from Mallory Square as the sun drops below the Gulf of Mexico, painting the sky in brilliant shades of pink, purple, yellow, and orange.
Key Lime Pie
Key lime pie was born in Key West during the early 20th century. It's made using the small key limes native to the area, more flavorful than regular limes. The Key Lime Pie Company makes a good one!
Bar Hopping Duval Street
Duval Street may only be a mile long, but it's packed with small bars & old Victorian mansions. Pop in and listen to one of the many live bands playing Jazz, Cuban, or Salsa music. Don't miss the Green Parrot Bar or the (clothing optional) Garden of Eden!
Accommodation & Food
While we were in Key West, we stayed at the Key West Marriott Beachside. The suite included a kitchen, which was great for preparing a late-night snack after coming home from the bars on Duval Street.
One of the best meals I ate in Key West was at Bagatelle Restaurant, located in a beautiful old building on Duval. Locally caught Hogfish with jasmine rice and pineapple salsa. Yum! ★
Watch Video: Key West Road Trip
(Click to watch Road Trip – Key West, Florida on YouTube)
More Information
Location: Key West, Florida [Map]
Accommodation: Key West Marriott Beachside
Useful Notes: The drive from Miami to Key West takes about 4 hours without stopping, but you'll want to plan for many stops. You'll get the best weather during winter high season. Summer can be humid and rainy with the occasional hurricane. For more info on planning a trip to the Florida Keys, check out Fla-Keys.com