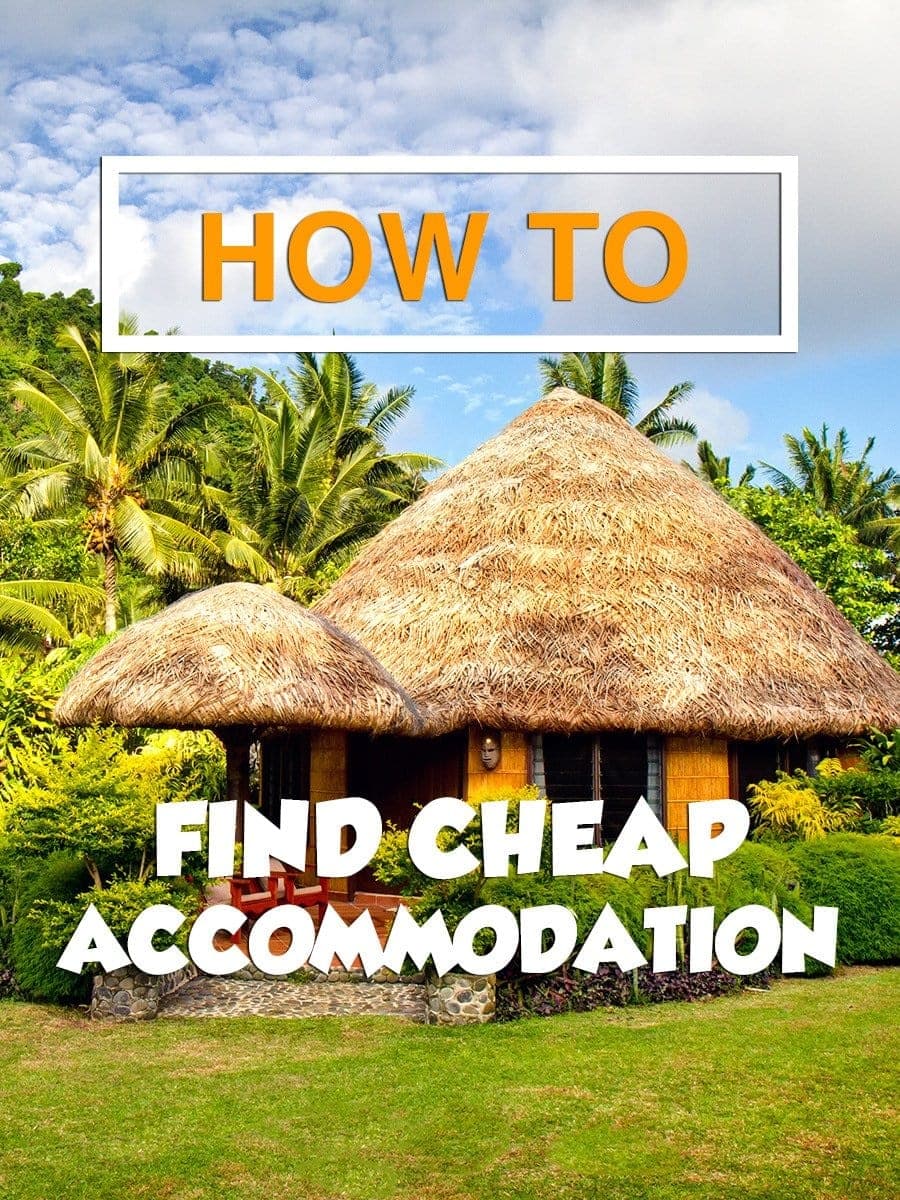 Travel Tips
Cheap travel accommodation is available around the world — you don't need to pay for expensive hotels. Check out these affordable (and free) sleep options.
One of the biggest travel myths out there is that you need to be independently wealthy to see the world. This is simply not true. Travel can be very affordable, especially when you use alternative forms of overnight accommodation.
Travel is only expensive if you choose to make it that way.
Fancy hotels have big budgets to spend on plenty of advertising coverage. So we assume those are the only options out there. But in reality there are many cheap, and even free places to sleep when traveling.
Over the past 2 years I've tried most of them, and wanted to share my experiences and tips with you.
Backpacker Hostel
COST: $5 – $20 Per Night
Backpacker hostels are a popular option for the budget-minded traveler. Rooms & bathrooms are shared by multiple people which helps keep costs low. The average hostel room can hold 4-10 individuals, often furnished with bunk-beds. Personal lockers are available for securing your belongings. A very basic (toast and cereal) breakfast is usually included too.
In addition to being cheap, hostels provide a highly social atmosphere for fellow travelers to interact with each other. A communal kitchen and living area helps facilitate this. Many backpacker hostels have a few private rooms for those who want a little more privacy along with the vibrant social scene.
Backpacker Hostel Tips:
Avoid hostels that don't provide lockers for your valuables
Earplugs & an eye-mask will help with late night noise & light
HostelBookers & HostelWorld are good sites to find a hostel
As a solo-traveler, meeting new people and saving money is a priority for me. So I frequently use hostels when I'm traveling. If you don't mind sacrificing a bit of privacy & dealing with some extra noise, backpacker hostels are a great option.
Guest House
COST: $10 – $50 Per Night
A guesthouse or budget hotel provides a simple, affordable room without the perks or service of a bigger hotel. Compared to a hostel, you receive a decent sized private room but much less social interaction. All for a slightly higher price. Kitchens may or may not be included. Breakfast may or may not be included.
Just like hostels, the quality these places can vary widely. In some locations hostels are just not available. But there will be plenty of cheap guesthouses around.
Guest House Tips:
Always ask to see the room first
Make sure windows & doors are secure
TripAdvisor is a good site to search for guesthouses
Choosing a guesthouse over a hostel really depends on my mood. If I'm feeling sociable and don't have a ton of work to do, I usually prefer a hostel. But sometimes the privacy of having your own room is worth the extra expense.
Short-Term Apartment
COST: $10 – $50 Per Night
If someone has a spare room in their house, or a whole apartment they are not using, they may rent it to travelers on a daily, weekly, or monthly basis. These apartments usually come fully furnished and include a kitchen — all for the price of a budget hotel.
One of the big benefits of staying in an apartment is how it can feel like a home away from home. Regular interaction with local neighbors helps you appreciate what it's actually like to live in the country, if only for a short time.
Apartment Tips:
Choose places with a history of reviews from past tenants
Research the apartment's location & transportation options
FlipKey and AirBnB are great sites to find short-term apartment rentals
If you plan to stay a month or longer, local classifieds provide the best deals
I've rented a handful of short-term apartments on my travels, as they're a wonderful way to slow down and live like a local. For example I lived next to the beach in Playa del Carmen for 3 months and it only cost me about $10 a night.
Local Homestay
COST: $10 – $50 Per Night
If you're interested in learning more about someone's culture when traveling to a new country, homestays can help you do just that. This is when a family rents out a spare bedroom for extra income and a chance to teach you about their lifestyle. A homestay usually includes breakfast and maybe dinner too.
Homestay arrangements are typical with many language schools, but these days any traveler can book one. You don't need to know the language to reap the benefits of a homestay either. It might be challenging, but it's also very rewarding.
Homestay Tips:
If your host doesn't speak your language, use sign language and draw pictures to communicate. It works surprisingly well.
Check if your homestay includes meals, and how many
Be open-minded and willing to learn from your local hosts
Search Google for "homestay" plus the country's name to pull up different homestay websites
I once spent 3 weeks in a Guatemalan homestay living with a local Mayan family while learning Spanish. You are welcomed like a member of the family and experience a foreign culture on a whole different level.
Volunteer / Work Exchange
COST: $0 – $30 Per Night
Rather than pay for your accommodation, why not work for it? There are countless opportunities to volunteer your time, labor, or expertise in exchange for room & board all over the world. Some examples include farms, schools, shelters, hostels, lodges, ranches, and even sailboats.
Work exchanges can teach you a new skill, provide insight into a foreign culture, and benefit a good cause while you travel. Not to mention helping you save money at the same time.
Work Exchange Tips:
Check on how many hours of work are required, and if meals are included
Some organizations charge a small fee to cover additional costs associated with hosting you
WWOOF, WorkAway, and HelpX are good sites to search for volunteer opportunities
In Nicaragua I lived in a school for a few days while volunteering to build cook ovens (out of poop) for poor families in a town without electricity or running water. It was fun, emotionally rewarding, and I didn't have to pay a cent for food or accommodation.
Camping
COST: $0 – $10 Per Night
If you really want to get close to nature while you're traveling, you can't beat camping in the wilderness. Most of the time it's free, but if you camp in popular tourist locations you may have to pay a bit.
With a tent or camping hammock you can go absolutely anywhere and will always have a place to sleep, allowing you to experience remote areas that other travelers might avoid due to lack of accommodation.
Camping Tips:
Try to avoid camping on posted private property
Make sure you have a water source nearby
Keep food away from your shelter, preferably up in a tree
Respect the environment and leave no trace
I'm a big fan of camping. In fact I always travel with a camping hammock, and try to camp at least once or twice a month. Many of my most memorable adventures have included some camping.
House Sitting
COST: $0 Per Night
Homeowners around the world need someone to look after their house while they're on vacation or away for work. You can be that person. House sitting enables you to live quite well for a few weeks or months in someone else's place, in exchange for keeping an eye on it.
Sometimes there are pets to feed and play with, plants to water, and other chores. But having a whole house to yourself, for free, is usually worth the minimal effort involved.
House Sitting Tips:
Provide solid references, maybe house sit for a friend first
Ensure your responsibilities are written down & agreed to
Be flexible. You never know when & where an opportunity will pop up
TrustedHousesitters, MindMyHouse, and HouseCarers are good sites to find housesitting jobs
I once spent 2 weeks housesitting in the woods of New Hampshire in the winter. My main responsibility was to keep a wood-fire going 8 hours a day to prevent pipes from freezing. But a network of cross-country ski trails out back kept me busy too.
Couchsurfing
COST: $0 Per Night
If you're not aware of CouchSurfing.org, you should be. It's a very large (5 million strong) community of people from all over the world who open up their homes & apartments to travelers for free. They may have a whole spare bedroom, or just a couch for you to crash on.
Why do they do it? To meet interesting people. To share their culture. To find adventure partners. After a hosting experience, both the host & traveler can leave a reference about one another. This vouching & verification system works well to prevent misuse of the site.
CouchSurfing Tips:
Provide tons of information on your profile to gain trust
Send out personalized CouchSurfing requests, not generic ones
Make time to chat or do something fun with your hosts
Join local CouchSurfing meetups to get your first references
HospitalityClub & WarmShowers have similar communities
I've been both a surfer and host through CouchSurfing, and constantly meet the coolest people. The misconception that CouchSurfers are all freeloaders & bums is simply not true. The community is made up of many ages, backgrounds, and income levels with fascinating stories & knowledge to share.
Overnight Transportation
COST: Ticket Price
A wonderful way to save some money on accommodation costs is to travel at night. Sleeping on trains, planes, buses, and boats takes practice to master.
But when you get good at it, you'll be able to wake up refreshed and ready to explore your new surroundings. Well, maybe after a shower…
Overnight Transportation Tips:
Choose a seat/location with a lot of legroom
Bring earplugs, an eye-mask, water, and something warm
Secure your valuables to yourself
Befriend your neighbor so they'll wake you before your stop
I always try to book overnight transportation to save some money and make a long trip less boring. It took time, but I've become pretty good at sleeping on buses, planes, and one time the deck of a cargo boat.
Public Places
COST: $0
Booked an early flight, bus, or train ride and don't want to pay for a hotel room you'll barely use? Just sleep in the terminal/station. If you have luggage and look relatively clean, you probably won't be bothered by security.
Transportation terminals have bathrooms, food, and are usually open all night. If you're lucky, you might even get free WiFi. In fact there is a whole website dedicated to sleeping in airports.
Sleeping in Public Tips:
Find an area away from heavy foot traffic
Bring earplugs, an eye-mask, water, and something warm
Secure your valuables to yourself
Stake out a good spot early, before others start looking
I've spent my share of nights in airports & station terminals. In Hong Kong I actually spent 2 nights in the airport because I was tired of moving around, too cheap to pay for a hotel room & taxi fares, and thought it would be fun. It was. With free WiFi, I got a ton of work done too.
Squatting
COST: $0
Squatting is when someone lives on property that's owned by someone else without their permission. You'd be surprised how many people do it. Some estimates suggest that 1 in 7 people worldwide are living as squatters!
This includes shantytowns where families build shacks on land that they don't own. However in many countries squatting is illegal. I once spent the night squatting inside a Spanish cave with Romanian gypsies!
Squat the Planet is a good source for more information on the squatting community (yes, there is one).
Luxury Resort
COST: $200 – $1000+ Per Night
I have a hard time rationalizing spending a lot of money on expensive hotels because the same amount can enable me to travel longer or participate in amazing activities. Why waste that cash for one night in a fancy bedroom?
But I admit that sometimes it's nice to splurge a bit and stay somewhere luxurious for a change. I don't do it often, but it does happen.
And if someone else is paying for it, I certainly won't pass up the opportunity to live like a rich guy for a few nights!
No Excuses
The point I wanted to make is that accommodation costs shouldn't get in the way of your travel dreams. You don't need to spend thousands of dollars on expensive hotels to see the world.
A week's stay in a hotel might cost $700, a week's stay in a hostel might cost $140, and a week's stay with CouchSurfing hosts will cost you $0. Big difference, right?
Travel is only expensive if you have expensive tastes.
If you're open-minded, there are plenty of cheap accommodation options to take advantage of while traveling. ★